The Rogue Echo bike, a new air bike introduced in 2019 in the market is supposed to be the best air bike option for everyone. Why? That's what we will discuss here.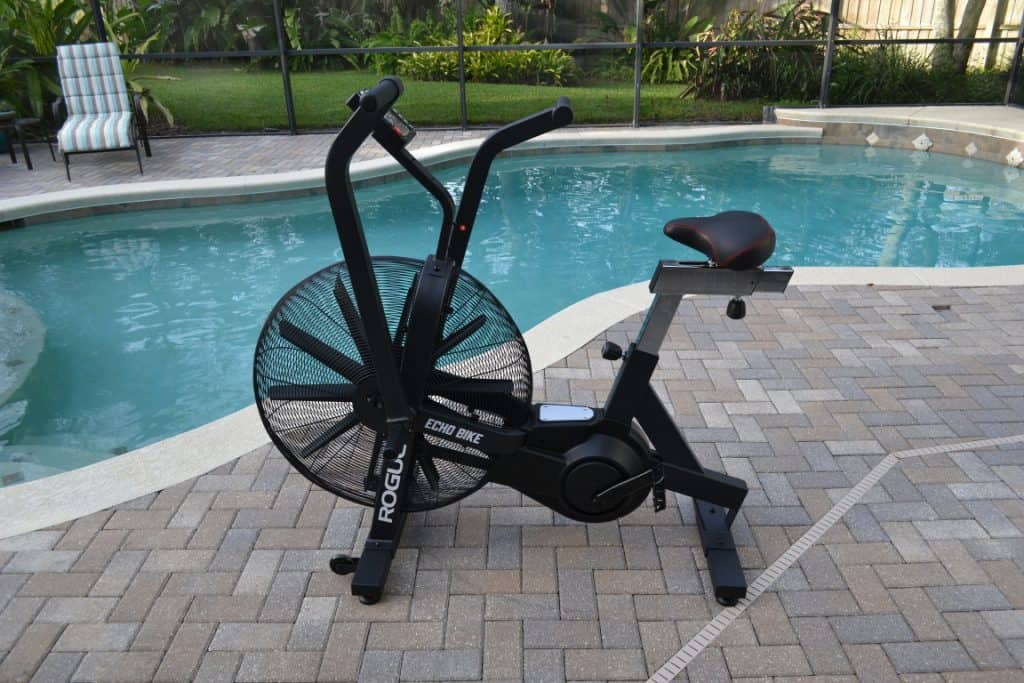 Rogue Echo Bike – This fan bike/ airbike is the best in the market. It is super study, and over built which is excellent for high power workouts. It makes no noise like other bikes having a chain, it has a belt and works smoothly.
Wind Guard In Echo Bike
The wind guard in Rogue bike is effective as the fan throws too much Breeze. It is less Messy and looks much better than duct tape.
Phone Holder In Echo Bike
This Rogue bike with a phone holder can fit very big phones and is robust.
Polar T31C Heart Rate Sensor
The PolarT31C heart rate sensor works automatically and is compatible with the Rogue echo bike. Even the regular T31 model (non coded) will do well.
Unfortunately the echo bike does not support bluetooth devices like Android and the iPhone.
Polar T10 Heart Rate Sensor
The polar T10 chest strap heart rate monitor has high accuracy so is a premium product. It works with both Bluetooth and ANT+.connection. it goes along well with an echo bike or C 2 rower etc.
Turf Tire And Handle Kit In Echo Bikes
The standard front foot is replaced by the turf tire handle kit. It adds maneuver ability to this 127 LB " stationary" bike.
Why Do I Have A Fan Bike?
An air bike or fan bike is a clever work out. It is completely different from riding a spin bike. It requires a lot of effort to crank the pedals and pull and push the levers to keep the fan moving faster and to keep accelerating. The fan bike is stupendous for HIIT style workouts.
For 20 seconds you have to pedal hard and fast then stop for 10 then repeat it 8 times.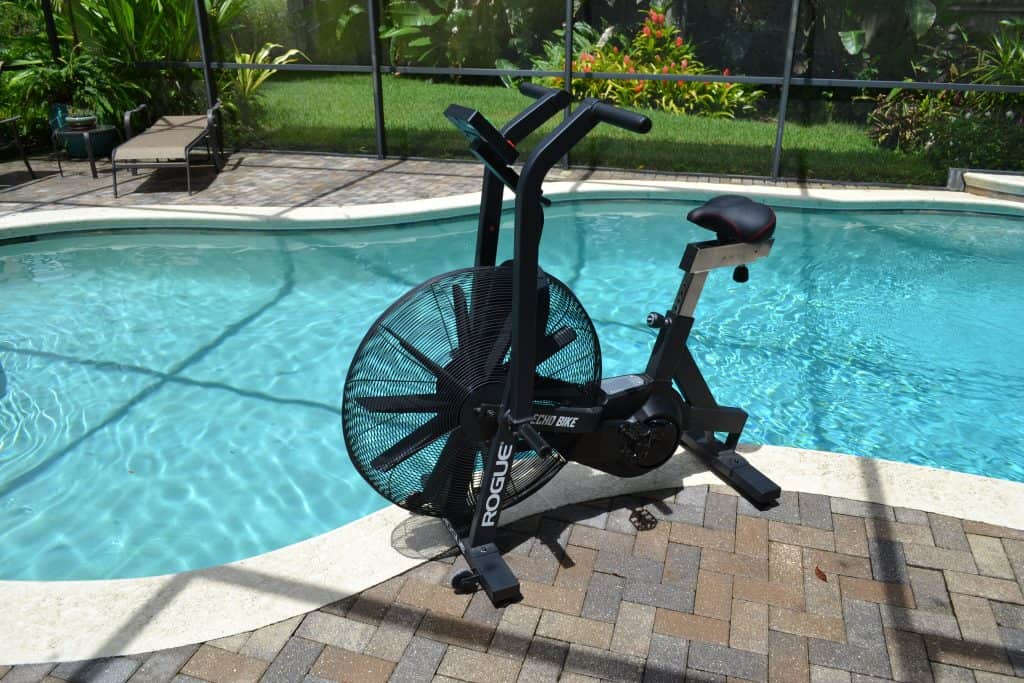 On these bikes a lot of fun challenges can be done like how quickly can you burn 50 calories? Some people can-but the experience is not so pleasant. Can a Rogue echo bike deliver the goods?
Yes, but it may be a brutally hard workout.
FOR LISS -low intensity steady state cardio- an air bike is not suitable rather go for a spin bike or a concept 2 bike Erg . As for LISS  the air bike use involves too much work.
Rogue Echo Bike-over Built
On comparing the Echo bike to the Assault airbike we find that Assault air bike is very lightweight fan bike and can be used for brutally hard, HIIT style workout .The Echo Bike (127lbs) is made up of thick steel tubing 2*3″,1.25*3″,1.625*3.125″.
It's handles are Massive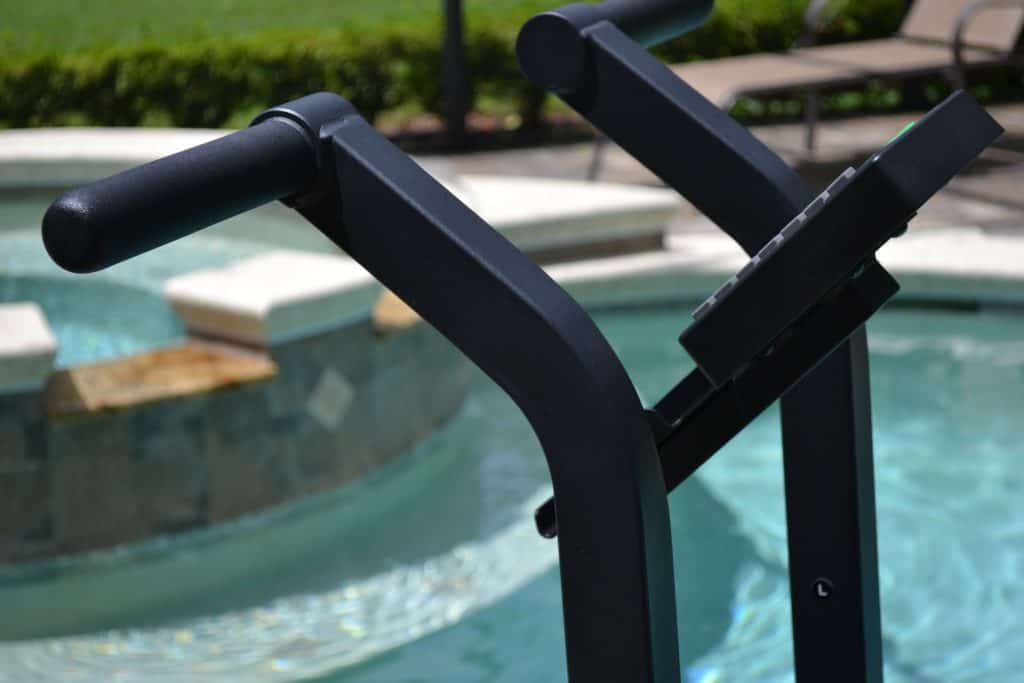 Does This Matter?
Because while rocking and rolling and trying to hit 800 watts power you have to work hard with an air bike, and the echo bike will stay stable and sturdy.
The Assault air bike is 30% less in weight than the Echo bike which is fine while moving it in a gym-it's not sturdy while pedaling hard.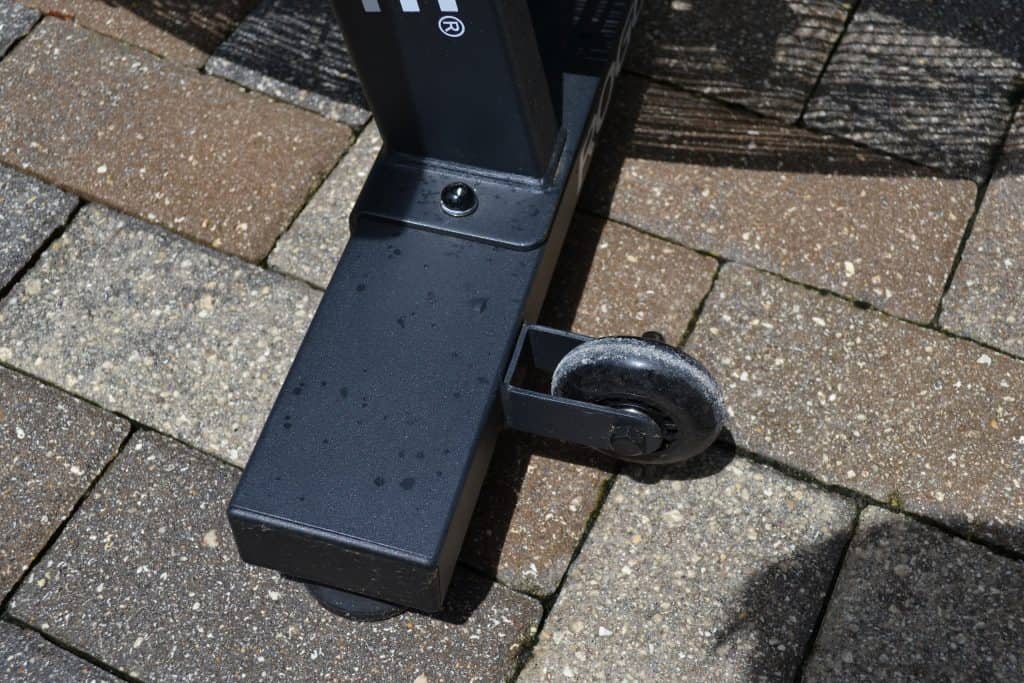 Both the units have wheels at the front if we see mobility. So an echo bike can be moved easily and is easy to reposition just tilt it and Roll It.
Noiseless And Smooth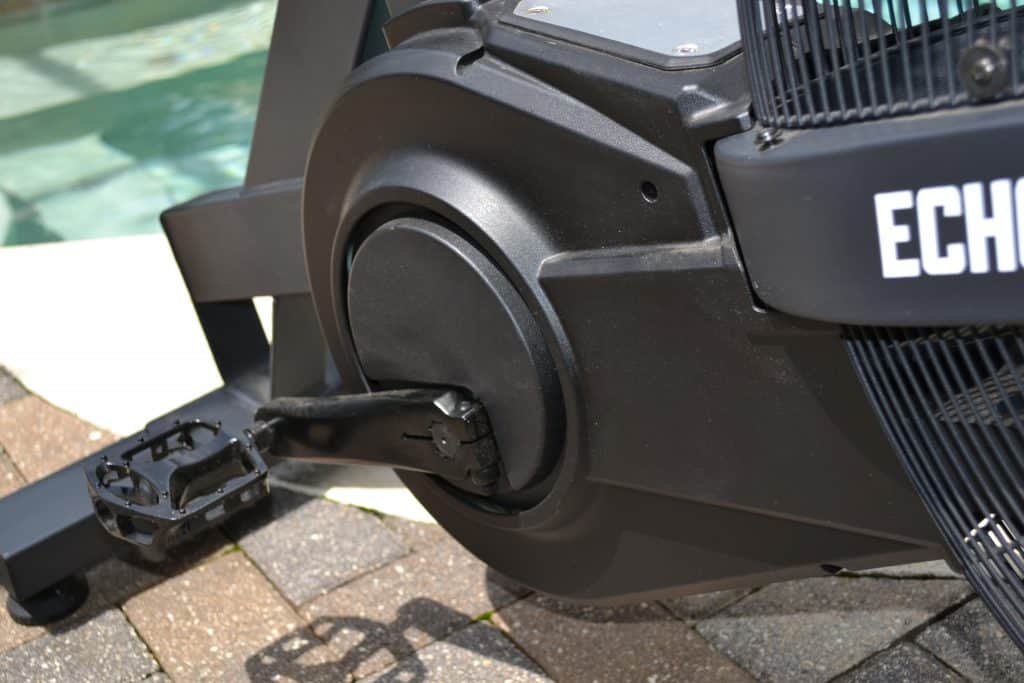 It's over builtness makes it a smooth ride. It has no bike chain. On a regular bike the chain drive is Messy and needs to be lubricated (grease). Change breaks most of the time and also makes noise because metal rubs on metal when the chain moves on the gears. The Echo bike uses belt drive, it has no chain. Means it is quieter although the fan has a sound but it's a pleasant sound. Furthermore it requires no maintenance and it's never heard that a belt drive breaks. It never happens. So belt drive is superior and Echo bikes have it.
The Fan Is Even Over Built-in Rogue Echo Bike
Another interesting feature in echo bikes is that even its fan is over built. As compared to an assault air bike, its fan blades are more in number and are bigger. In assault bikes the fan blades are six in number and  are 2. 75 inches wide and 6 inch long. In Rogue Echo Bike there are 10 blades 2.75 inch wide , 26 inch diameter (approximately). The fan blades are bigger and more in number. The Echo bike has massive Steel handles than those air bikes. It means to move an echo bike requires more effort than an air bike. So an air bike is easier for people who have tried both.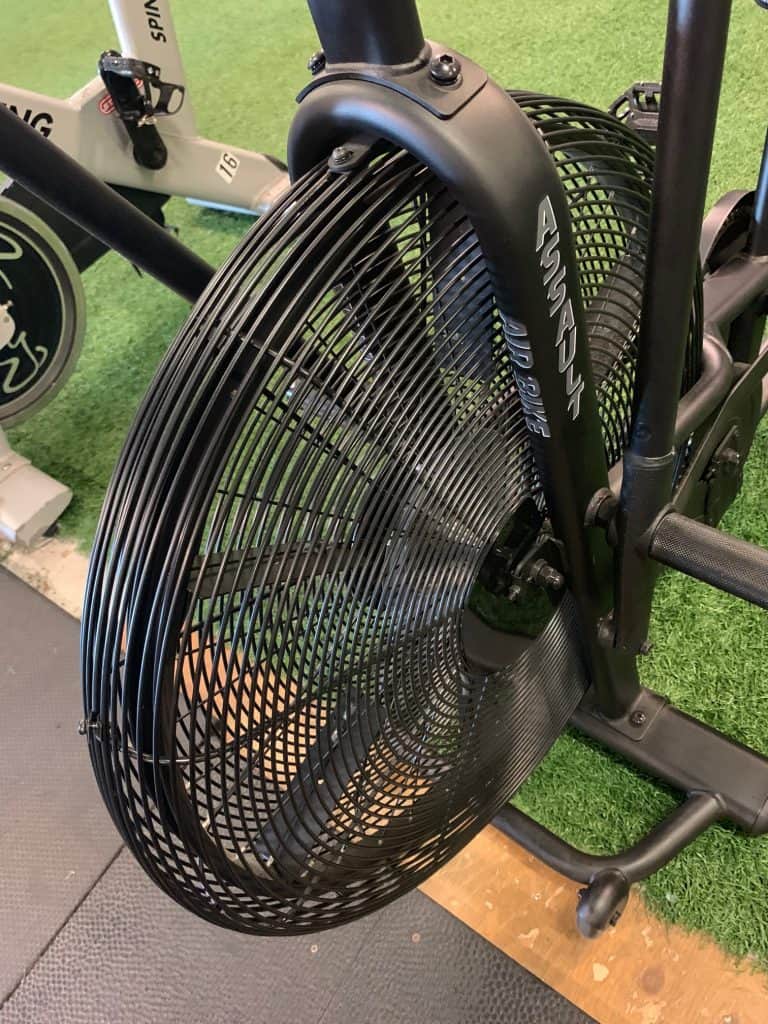 You have to jump on a fan bike to work out, you don't jump on it to have a good time.
A Few Limitations –
The LCD display has no backlight. So it's hard to use it in the dark. At night you need an external source of light. Using echo bikes outdoors like a garage or on the porch will be easier if it has a backlit display.

The electronic monitor should be compatible with bluetooth. It won't be too costly if a Bluetooth transmitter chip is installed into it. It would make it easy to use with many electronics people use these days.

Handles are too big having 1.5 inch diameter grips. The grip due to over built handles is not comfortable, it stresses the wrist. Preferable the diameter should be nearly 1 inch. This could be done easily but not to compromise with the stability and smoothness.
 Accessory Of Rogue Echo Bike
1. Seats – the seat is big, wide comfortable, mounted like a regular bike . So it can be replaced. The height and depth can be adjusted.
2. Phone holder – The phone holder is fitted with two screws and it can fit big sizes of phones-iphone XS Max. It can be used with the airbike workouts page.
3. Pedals – pedals are bike pedals which in the future will have replacement options.
Rogue Echo Bike Assembly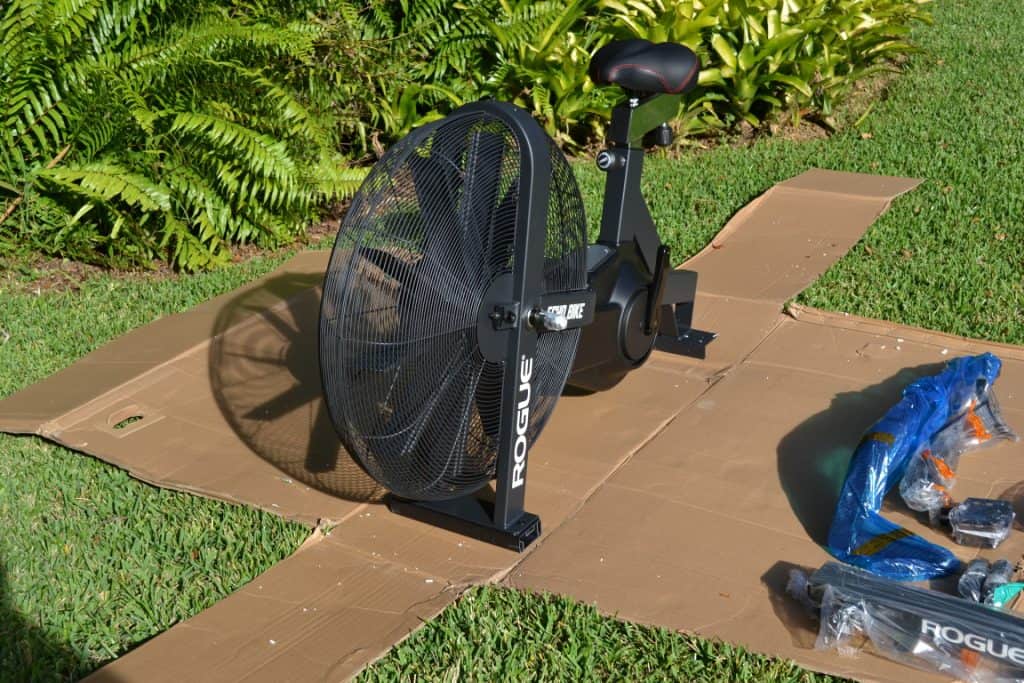 To assemble it is easy. It has all the tools required and the hardest parts are previously put together. Parts can be put together if you can use a wrench and screwdriver.
Summary Of Rogue Echo Bike Review
For garage or  home gym for (HIIT) high intensity interval training workouts a fan bike is the best. Rogue echo bike is recommended. It has a super tough built with zero maintenance. It is quiet and delivers the goods. Jump on and pedal for a heart pounding workout.